COLOR WHEEL

FOR WEB DESIGNERS
Your next color scheme is looking for you . . . Meet it today.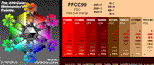 Try the clickable color wheel at the
Webmaster's Color Laboratory.
10,000 a week stir up color there.

Don't tell me you have no artistic sense.
Here's a color theory: 1 you have incredibly advanced taste
because 2 you know immediately when you see great color.
And 3 the best start to finding great color is seeing all the options.
So I lay these color wheels reverently at the feet of your intuition.
She is fickle and shy. But we will honor and attend her.
And she will take our breath away.
(I wrote an article expanding on this nutty idea for DigitalWeb Magazine,
titled the Red Queen Color Theory.)

Here are three arrangements of web colors and resources based on them.

The printed color references use a custom 8-color printing process
to match screen color. I think you'll find it stunningly more
accurate than Pantone® ColorWeb®.
The color lab is by far the most popular resource here.
Each click on the color wheel on the left chooses a color;
each new color updates the color scheme.
Show your intuition hundreds of color combinations in a few minutes.
I do hope she's pleased.
And when you fall in love with your next great color scheme,
I'll be honored to have helped in the matchmaking.
Send a postcard.
— Bob Stein