Color Card

(8.5" x 11")
Color Chart

(18" x 24")
Printed color
references with
color deficiency
simulations

Toward the lower left on the Card and the Chart is a simulation of deuteranopia, a common variety of color blindness.

This is from the Greek for "second doesn't see" referring to the second cones in the retina of the eye that respond primarily to green light and are presumed to be defective in this condition.

This doesn't mean that greens are invisible to people with deuteranopia. Human vision is complicated.

The role of the green cones is less to detect green light than to distinguish it from red. Similarly, when the red cones "don't see" (protanopia), the main consequence is that reds, yellows and greens are indistinguishable.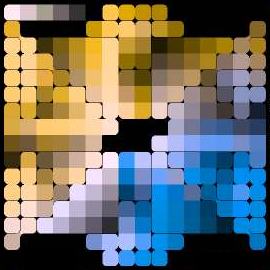 This figure simulates the web-safe colors as they appear in a deuteranopic condition. In most other categories of color blindness, protanopia, protoanomaly and deuteranomaly, the view is very similar but there are subtle differences. In one very rare form, called tritanopia, affecting thirty people in a million, colors appear very differently. The Color-deficient vision site excels at explaining and illustrating these points.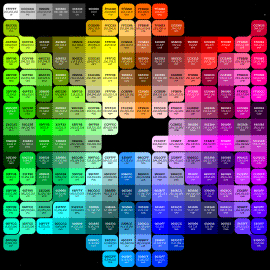 Here is the main web-safe color reference in the Card and the Chart.
In most forms of color blindness, these colors appear similar to those above. When designing a web site, you might try to avoid depending on distinctions that color-blind people cannot make. About 8% of men and 0.4% of women have some form of color blindness.