VisiBone Announcement #11, March 2004
Ten New Products!
OK, that's something of an exaggeration. It's not like I have ten new technologies to offer you. Don't have SQL, PHP, Photoshop, etc. Not yet anyway. But a whole bunch of things have come together at once. New editions, new shapes and sizes, new ideas.
There's one new technology: Fonts. The Font Card came out on the back of the Color Card in December. It ranks the top 65 fonts by how widely available they are on browsers. Over 400 volunteers scanned their system for over 4000 fonts to contribute the data for this reference. The Color Card is still the same $10 price but now the Font Card is on the back.

2. HTML / CSS Card — New Edition (WHAT'S SO NEW ABOUT THEM?)
3. HTML / CSS Foldouts — New Edition
The biggest effort has been the new edition of HTML / CSS Card and Foldouts. Although HTML and CSS standards have changed remarkably little in the last three years, the browser scene has changed a lot. Who would have thought we'd have seven browsers to design for?
The HTML / CSS Card and Foldouts show which features are approved by W3C standards and which are supported by the top seven browsers:
Microsoft Internet Explorer 4-6
Netscape Navigator 4,6-7
Mozilla 1
AOL 7
Opera 6
Konqueror 3
Safari 1
I retested HTML and CSS features on all of them thanks to the great technology at browsercam.com. For more on what's new, see the Edition 3 changes.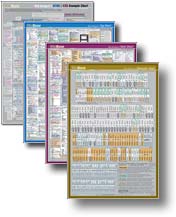 4. HTML / CSS Example Chart
5. HTML Tag Chart
6. CSS Style Chart
7. HTML Character Chart
The HTML / CSS Charts are about 12" by 17". They are blow-ups of the HTML / CSS Card pages. Individually they're $10. The whole set is $30. I just put these up on my wall and I have to say I'm psyched. I've used them a lot. I love getting an answer from the wall in 2 seconds instead of the excruciating 5 seconds it takes from the Card or Foldouts.
I was concerned they were too small, but I can read them fine from three feet away (font is about the same size as in the large-print foldouts) and I like the idea of leaving lots of room on my wall for more of these. JavaScript and Fonts are next, obviously. But the printing turnaround is so fast with the digital press now, I expect to release all new technologies first in this mini-poster format.

8. Color Hexagon
9. Color Pad
The state of the mousepad art has gotten wonderful thin.
The Color Hexagon and the Color Pad are now made with ultra-thin high-grip backing.
And now, the best for last. From somewhere we got the bright idea of assembling all three cards into this 10-page book-like thing.
Spiral-bound collection
of all three VisiBone Cards
: : :

So, what should I make next? Survey consensus seems to say SQL, PHP and Photoshop. What's the most useful paper you can imagine?

—Bob Stein, VisiBone, stein@visibone.com, (feedback form)

© 2018 VisiBone