Seven Illustrated Principles of Highly Informative Color
Accommodating Strangeness
7. Special Cases. All rules have their exceptions. Handling yours with compassion and vision can forestall a lot of user frustration. Seek common ground with the dominant forms and reveal it.

Example 1: This symbol indicates a clash between Internet Explorer and Netscape. It appears next to any feature that acts differently in the two browsers. (Bugginess is a different symbol.) It's an icon of two swords, one in IE color, the other Netscape color. An unusual use of the colors to indicate an unusual situation. This one symbol lumps many special cases together, each one of which then I explain in elaborate detail online.

Example 2: Many HTML character codes were adopted by both browsers after version 4 (that is, not until IE 5.0 or 5.5 or Netscape 6). For the HTML Card I indicated this soon-to-be-universal condition with a dotted border alternating between IE and Netscape colors. I think it's helpful to make special cases look special.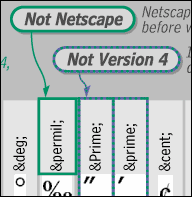 Notice the strong visual availability of verbal help — sound bites bold and surrounded by the forms they're explaining. Verbose descriptions are right next door (though cut off here).

Dangers of visual diversity:
Patterns become hard to distinguish (the solid green and dotted green/purple lines above are borderline, no pun intended)
Annoying users by loading up their mental list of things to learn
One thing I think relieves that annoyance is, paradoxically, repetition. Isolated symbolisms don't promise much benefit to learning.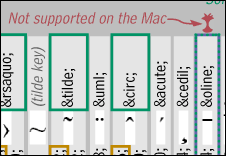 Example 3: I introduced a new symbol and color to indicate character non-support by the Apple® Macintosh®, a twist needed only in the character section of the reference (not in the tags or styles sections). Because that symbol is used repetitively though, I think users unconsciously forgive the mental intrusion of a new color and symbol.


A special case of symbol and color merits good reason. All three of these examples are visual oddities but were needed in multiple places.
: : :
Most important for color and symbolic themes are consistency and recognizability (principles 1,5). It's not so important that a symbol stand alone without verbal explanation, as it is that it be recognizable once explained, and then reinforced at every turn. Making sure those needs are filled you could try for resonance with precedent, aesthetics, and symbolism (principles 3,4,6). Just make sure you don't ruin it with too much color diversity or too many visual exceptions (principles 2,7).
Here's wishing you're able to part the clouds of your user's confusion with a rainbow of informative color.

Bob Stein, stein@visibone.com writes, publishes and sells Color and HTML reference laminated cards, charts and mouse pads. He is Chief Technology Spelunker, and most everything else, of VisiBone. He designed the color-wheel swatch libraries in Adobe Photoshop, Illustrator, ImageReady and Bare Bones BBEdit.